Commodity name: Grubbs catalyst 2rd generation
Cas No.: 246047-72-3
Molecular formula: C46H65Cl2N2PRu
Molecular weight: 848.97
Molecular structure: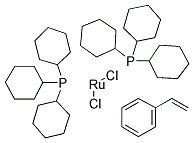 IUPAC Name: benzylidene [1,3- double (three methyl phenyl) -2- imidazoline subunit] two chloro (tricyclohexylphosphine) ruthenium
Appearance: (sensitive to air and water) Brownish red minuteness crystalline particles
Melting point: 216-220C (lit.)
Storage condition: 2-8 degree C
Purity: ruthenium complex content ≧98%
Purpose: Catalytic decomposition reaction of unsaturated olefins, with a wide range of substrates, Including the requirement for space or the deactivation of olefins, such as 1,1 - Substituted olefins and, α,β - unsaturated carbonyl compounds. The catalytic activity improves the two orders of magnitudethan than the first generation of Grubbs catalyst , the amount of the compound decomposition polymerization in the open loop can be reduced to one in a million. The amount of the complex decomposition reaction is only 5/10000.In some ring closing metathesis reaction in the amount is only five ten thousandths of, especially suitable for the synthesis of low tension cyclic olefins and the larger steric hindrance of multiple substituted olefins.
Safety instructions: 26-36/37/39
Related categories: noble metal catalysts; ruthenium containing catalysts; chemical intermediates; pharmaceutical intermediates.